---
This is a baby quilt that I was commissioned to make. It was for a baby boy and the theme was Sports Balls. The blue snowball blocks give the illusion of balls and the other snowball blocks are made from a sports theme fabric that had various sports balls on it. The corner triangles of each block come together in such a way that they make a secondary star design, showing that the little feller that got this quilt was an 'all-star'. The star points extend into the borders. It is beautifully machine quilted in a meandering design.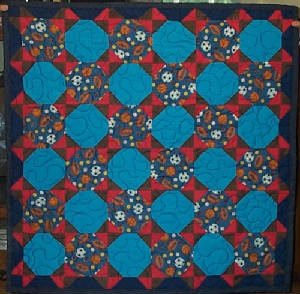 The quilt below is a twin size Football themed quilt. The brown pieces come together to form football shapes that flip flop across the quilt top. Two alternating blocks form the design; the snowball block and a nine patch. It is machine quilted with a overall meandering quilting design.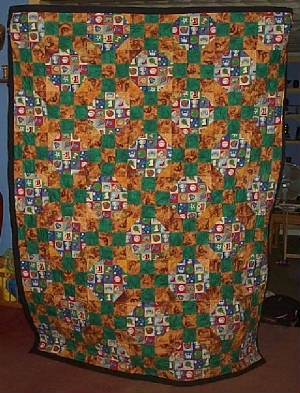 This is a queen size quilt, made of alternating snowball and nine-patch blocks. It has a tennis theme; with a hint of the squares of a net showing and interlocking tennis rackets; and the main focus fabric has tennis balls and raquets on it. This was machine quilted.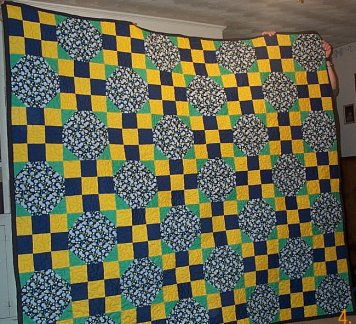 This is a twin size Pokemon theme quilt.